Main content starts here, tab to start navigating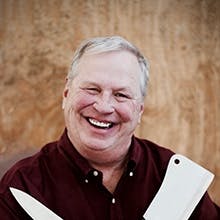 Duke
Co-Founding Member
Duke's experience working for SYSCO for 28 years as their protein program expert has given him unique insight, experience and contacts across the industry. He has worked with and built life-long friendships with nationally recognized chefs in and around Houston. Duke has taught and trained many restaurant managers as well as much of SYSCO Houston's salesforce in "The Wonderful World of Protein".
Duke has helped and guided the design of the protein entrees for many well-known Texas Steakhouses. Duke was Sysco's top salesman (nationally) for Certified Angus Beef for many years. His career and knowledge of the beef industry has been augmented by a multitude of certifications and educational programs. This coursework is developed and offered by the leaders of the protein production industry, such as: The American Cattle Association and The American Angus Society. He has been certified many times in Food Handling and Safety programs. He has been through several courses and protein plants regarding USDA Inspections and Certifications.
He has completed a great deal of research and study on proper nutrition of cattle. He follows through on his nutritional focus from the cattle to the consumer, educating and informing them on all cuts of beef available. This educational experience has taken him from countless cattle ranches to beef production facilities throughout the nation. Duke has also developed and taught a complete course on "Everything You Want to Know About Beef" at Texas A&M's Animal Science Department in College Station. This course has served to educate and inform a multitude of high-profile chefs and restaurant chains.
To Duke, serving the community comes more literally, and includes the involvement in numerous charitable activities with one of his bigger recent projects being securing over 400,000 hot meal components in a 30 day period during the Hurricane Harvey relief efforts in support of the American Red Cross. Duke has also been involved with the Houston Livestock Show & Rodeo for 25 years where he does a great deal of work with cattle and cattle judging. He has helped secure and service SYSCO's food contract for the Houston Livestock Show & Rodeo the past 5 years. He recently has taken on the project of developing the international business for cattle with the Houston Livestock Show & Rodeo through the International Committee. Duke truly knows the beef industry from "The Gate to the Plate" and will NOT sacrifice quality for profits!